Marketing
Domestic Market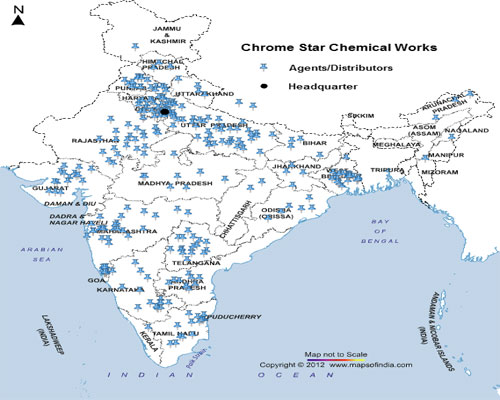 We have a strong presence in our domestic market from 35 years. Our buyers, distributors or agents sell our product on behalf of consistent supreme quality. Our brand is known to those who are expert in our related fields.
The marketing team is partnered with one of the most loyal distribution channels. This 2-3 tier distribution channel has ~ 200 distributors & direct dealers and more than 350 retailers across the major areas in the country.
Our market is nearly in all corners of India. We have our clients mostly in Delhi, Rajasthan, Gujarat, Haryana, Punjab, U.P and West Bengal with headquarter at Gurgaon, Haryana. Within few years we have successfully developed our markets in M.P. Uttarakhand, Maharashtra, Goa, Andhra Pradesh, Tamil Nadu etc. We are looking forward to continue our products sales in more areas.
Chrome Star Chemical Works is to create a Distribution network recognized as an industry benchmark, and provide effective Sales as well as After Sales Service/Support to CSCW Customers throughout the country.
Free Ads
© Copyright 2005 - 2019 Chrome Star Chemical Works.