Marketing
International Sales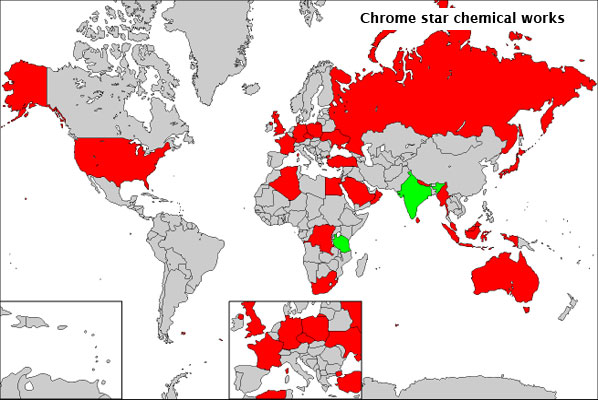 The Chrome Star Chemical Works is consistently rated one of the top chemical producers and distributors in the country. We provide chemicals for the household and industrial applications. Our years of experience and performance have gained our customers' trust.
Chrome Star Chemical Works is making its presence felt in 25 countries across the globe. Having an impressive growth record in the international market, we expand our export directly & also indirectly through export house.
We are constantly tapping new markets, having tie ups with reputed distributors with a sole selling policy to channelize our efforts in view of long term relationship.
Our company does not cut corners. We stand behind our products. To assure you, our valued customer, the highest quality chemicals, we have implemented a rigid, sophisticated control system. Our progressive management team continually holds safety inspections, monitored quality checks, and consistent traffic follow-ups so that you will never receive anything less than the highest grade of chemicals at the best price.
Our mission is to expand our business and provide the best to many other countries of the world.
Free Ads
© Copyright 2005 - 2019 Chrome Star Chemical Works.